Women face a unique set of challenges when it comes to health and fitness. There are several reasons women would want to eat and train differently from their male counterparts, hormones and muscle mass being among the top reasons. Women are also at a much higher risk for certain diseases and mental health concerns, which call for a different set of fitness and nutrition priorities.
As it currently stands, most women in the United States don't get the recommended amount of physical activity. And fitness is just one piece of the puzzle. A holistic approach to wellness – incorporating fitness, nutrition, and mental health – is the key to optimal health.
This complete guide to women's fitness and health aims to tackle all of these areas, giving you a baseline for improving your physical and mental health through fitness and nutrition, helping you live your happiest and healthiest life.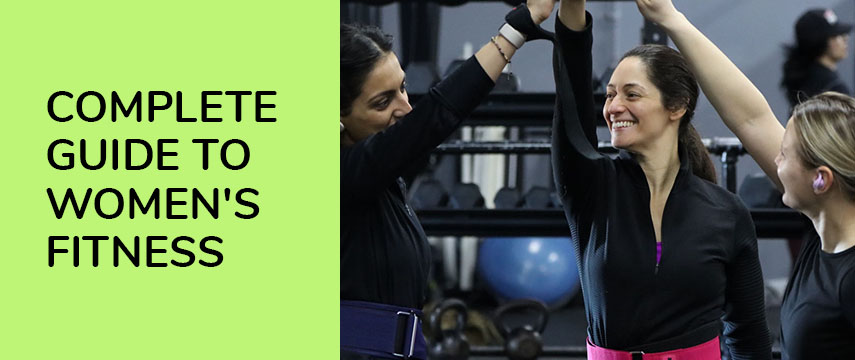 The Method Gym Difference
When searching for the right gym or fitness studio, it's important to find one that supports the full spectrum of your wellness needs. Whether you want to reduce stress, gain strength, increase cardio fitness, recover from injury, or just find a little time for yourself, find the space that you'll want to visit several times each week – the place where you feel supported in all that you want to achieve.
We recognize that wellness is a journey, not a destination. And that progress matters more than perfection. We work hard to provide a safe and fun workout environment where all members feel comfortable and at home.
You'll see the Method Gym difference in our energizing classes, expert trainers, state-of-the-art fitness equipment, friendly staff, clean facilities, and a wide array of wellness amenities. Plus, a culture of integrity and inclusivity!
Amenities
At Method Gym, we provide something for everyone – and for every fitness and wellness goal! From the latest cardio machines and group fitness classes to personal training and free weights, you'll find everything you need to get the results you're seeking.
Group Fitness
Method Gym offers more than a dozen group fitness class formats, including Zumba, Spinning, Bodypump, Yoga and more. Our instructors are energizing, motivating, and most importantly, will modify the class to your fitness level and intensity preferences – meaning you'll never have to feel nervous about trying a new class!
Our class line-up includes:
Barre
Benefits for Women
This high intensity and low impact workout is the perfect compliment to your strength training routine, as it targets muscles that more traditional strength training moves don't hit. High reps and small movements are used to isolate and fine-tune smaller muscle groups in the body.
Zumba
Benefits for Women
Perfect for everybody and every body, Zumba® takes the "work" out of workout, by mixing low-intensity and high-intensity moves for an interval-style, calorie-burning dance fitness party. This total body workout combines all elements of fitness – cardio, muscle conditioning, balance and flexibility – to boost your energy and leave you feeling amazing!
High-Intensity Interval Training (HIIT)
Benefits for Women
High Intensity Interval Training (HIIT) has been scientifically proven to help your body burn fat more efficiently. In addition to improving your aerobic capacity, this fast-paced workout improves strength and builds lean muscle with intervals of strength, power, and resistance exercises.
Stretch & Flex Express
Benefits for Women
Stretching is one of the key components to injury prevention and recovery. A regular stretching routine increases flexibility, keeps muscles long and supple, and improves range of motion in the joints. It will also increase the effectiveness of your cardio and strength workouts!
Personal Training
Want to fast-track your fitness results? There's no better way than to work with a personal trainer! Method Gym's expert certified trainers will provide you with a customized workout plan tailored to your unique goals, as well as the feedback and accountability to help you get there faster.
But it's about so much more than the workout. Our personal training team is attentive and friendly, and our workout spaces are welcoming. We're here to support you in both fitness and life.
Our personal training team is diverse, including both male and female trainers with a variety of fitness backgrounds and life experiences. We'll help you find the very best fit for you and your unique goals.
Disease Prevention
Women are at a greater risk than men for developing a number of medical conditions, including breast cancer, stroke, and osteoporosis. And for many of these common diseases in women, exercise ranks high on the list of prevention methods.
Osteoporosis
More than 25% of women over the age of 65 suffer from osteoporosis, which occurs when bones become weak and brittle. The risk is higher once women enter menopause, which brings lower estrogen levels and resulting bone loss.
To prevent or slow the occurrence of osteoporosis, it's recommended that women get plenty of vitamin D and calcium, in addition to engaging in weight bearing exercises. A few great options include walking, an energizing Zumba dance class, or strength training activities.
Nutrition
Nutrition is the key to living our healthiest life. What we put into our bodies has a direct impact on our energy, mood, and bodily functions.
Women have very different needs than men, based on their unique hormones and body structure. Women are traditionally at higher risk of osteoporosis, anemia and vitamin deficiencies, making it essential to take in adequate calcium, vitamin D, and iron.
A woman's nutrition needs will also change over the course of her lifetime. Before and during pregnancy, nutrients such as protein, calcium, iron, and folic acid will increase in importance. The lowering of estrogen after menopause will make calcium and vitamin D even more essential to a healthy diet.
While every woman will have her own unique nutrition needs, below are our top foods for optimal nutrition for increased energy, mood and functional support for the body, as well as foods that should be limited or eaten in moderation.
Best and Worst Foods for Women
Best Foods For Women
Cruciferous vegetables, like broccoli and Brussels sprouts
Beans, nuts, and seeds
Avocados
Whole eggs
Root vegetables
Berries
Dark, leafy greens
Salmon and other fatty fish
Lean meats, including chicken or red meat (top round or top sirloin)
Greek yogurt and other dairy (organic when possible)
Dark chocolate (a great mood booster, especially during PMS!)
Worst Foods For Women
Sugar and artificial sweeteners
Fried foods
Cured meats
Highly processed foods
Caffeine (especially energy drinks)
Nonfat milk (vitamin D needs fat to be absorbed)
Saturated fats (found in butter, cheese, and fatty meats)
Vegetable shortening and other sources of hydrogenated oils
Diet soda
White flour (found is many refined carbohydrates)
Non-organic berries and other fruits
Women & Mental Health
It's common to think of mental health and physical health as two different components of our wellness, each one to be nurtured on its own. In reality, there is a strong link between the two. Our mental health has a great impact on our physical health, and vice versa.
More than 20% of women in the United States experience a mental health condition each year, including depression and anxiety. When our mental health declines, our risk of disease, including strokes and heart attacks, significantly increases, as does the level of inflammation in the body.
While we always advocate speaking to a health professional for any mental health concerns, below are a few ways exercise and proper nutrition can help combat the symptoms of mental health concerns.
Depression
Depression is a mood disorder that affects 1 in 10 women in the United States each year. It's much more common in women than men, in large part due to hormonal and biological factors. Common signs and symptoms of depression include irritability, feelings of tension, loss of energy, changes in appetite, mood swings and sleep disturbances.
While many women may need medication to address depression, regular exercise can greatly reduce symptoms.
A great cardio or strength workout can release endorphins in the brain (the feel-good hormones!), and can also help reduce stress and improve sleep.
Want to overcome feelings of loneliness? Group exercise classes provide the benefit of social interaction, along with a great workout.
Anxiety / Stress Relief
Anxiety disorders are the most common mental health disorders in the United States, with women being almost twice as likely to develop anxiety as men. Common symptoms include feeling nervous, weak or tired, an elevated heart rate, and difficulty concentrating or sleeping.
Aerobic exercise has been shown to reduce symptoms of chronic anxiety. This could include group fitness classes, a brisk walk or light jog, or use of popular cardio machines at your gym.
Another favorite exercise option of ours is yoga, which provides mindfulness and meditation benefits, as well as the physical benefits of gentle movement.
Nutrition & Mental Health
What you eat certainly affects your mood! From a nutrition standpoint, adding mood-boosting foods to your diet can help address symptoms of anxiety or depression. Below are a few of our favorite ways to support your mental health through nutrition:
Increase omega-3s and vitamin B12
Because low levels of omega-3 fatty acids and vitamin B12 have been linked to depression, we recommend adding foods like salmon, flaxseeds and nuts to your diet.
Eat more carbs
We know… this is not common advice these days! Carbohydrates increase levels of serotonin in the brain, so it might be worth adding additional carbs to your diet if you need a boost. You'll want to focus on whole grain carbs to best support your overall nutritional needs.
Cut back on caffeine
If you are experiencing anxiety, caffeine is not helping you! If you must indulge in coffee or tea, consider limiting intake to one cup to avoid overstimulation.